Slides_2021_entreprise ENG 1995_422
Slides_2021_entreprise ENG 1995_4222
Slides_2021_entreprise ENG 1995_4223
Slides_2021_entreprise ENG 1995_4225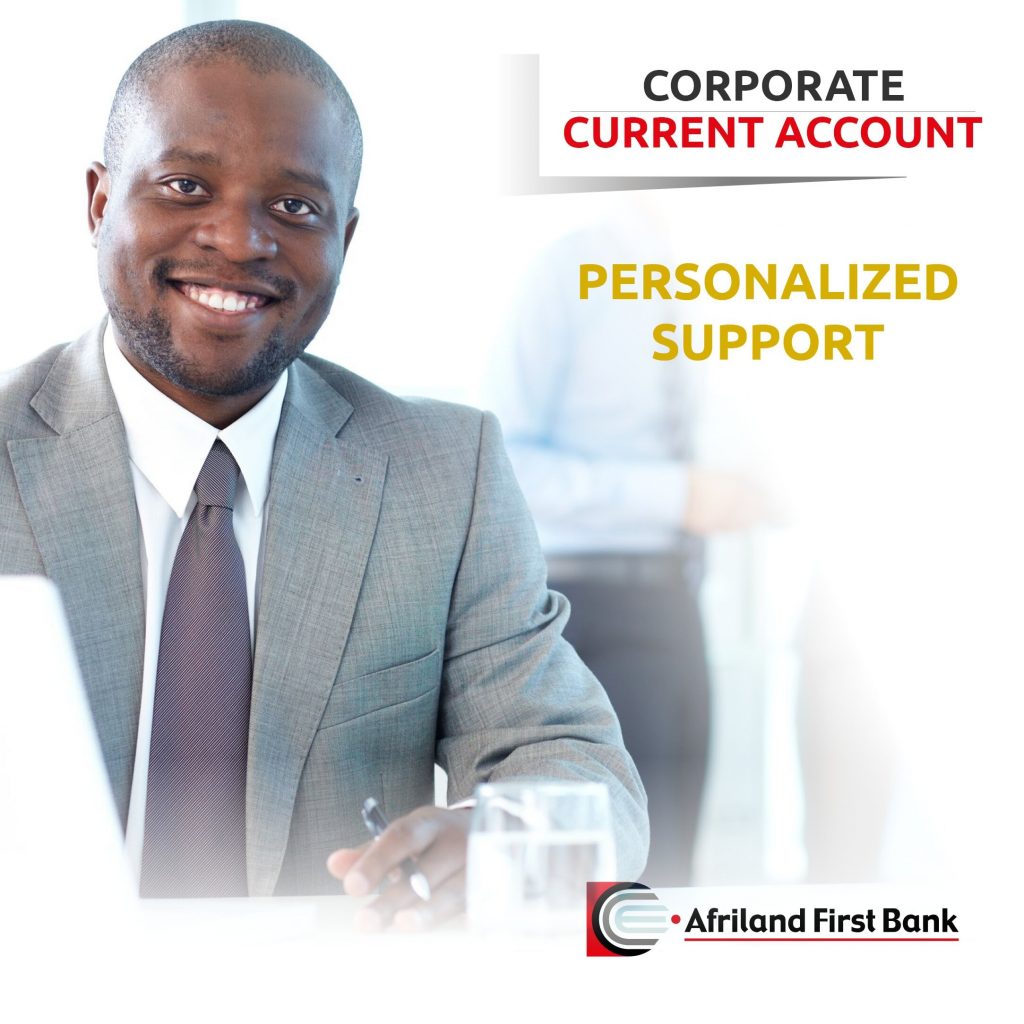 We offer support to new and existing small and medium-sized enterprises, tailored to their needs. In order to ensure a customised follow-up, we tailor the current account offer to the needs of every enterprise.
OUR TARGET
Individual merchants
Partnerships
Limited liability companies
Limited companies
Trusts
SPECIFICATIONS
Minimum deposit XAF 100,000
No minimum balance required (account can have a zero balance without being closed)
Account maintenance and other charges applied
Transfers and cheques accepted
BENEFITS
No monthly withdrawal ceiling
OPENING REQUIREMENTS
Valid proof of registration in the company registry.
Business licence for the current year
Taxpayer's card
Articles of association
Minutes of the last General Assembly
Latest financial statements if the business is already operating
Location map of the company's site
Minimum initial deposit XAF 100,000.
And for every signatory
A legalized photocopy of the NIC or passport
One 4x4 photo
A home location map
Proof of home address (lease contract or water, electricity, telephone bill, etc.)
Proof of income (pay slip or other).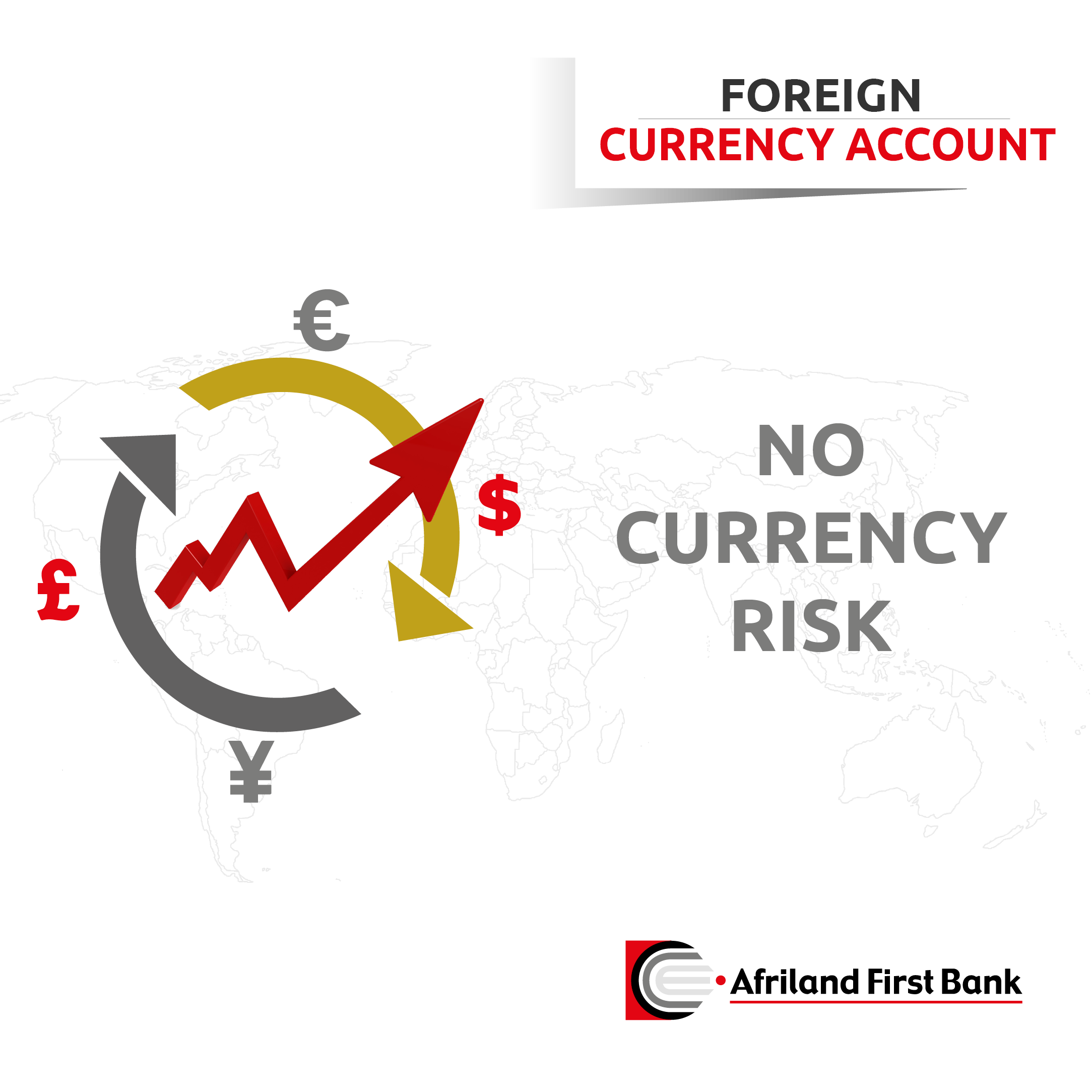 If you are an exporter or importer, regularly carrying out transactions in foreign currencies, and you meet Central Bank requirements, we can make it easier for you to receive and settle payments by opening an account in the currency of your market.

Benefits
Income in foreign currency
Attractive exchange rates
Competitive transfer fees
Preferential fees
Specificities
Accessible to natural persons and legal entities
Mainly a credit account
Authorised transactions: deposits, withdrawals, transfers, etc.
OPENING REQUIREMENTS
Be a foreign national resident in Cameroon
Provide an authorisation from the Ministry of External Relations (Minrex)
A photocopy of your passport or diplomatic card
One 4x4 photo
A location map of your residence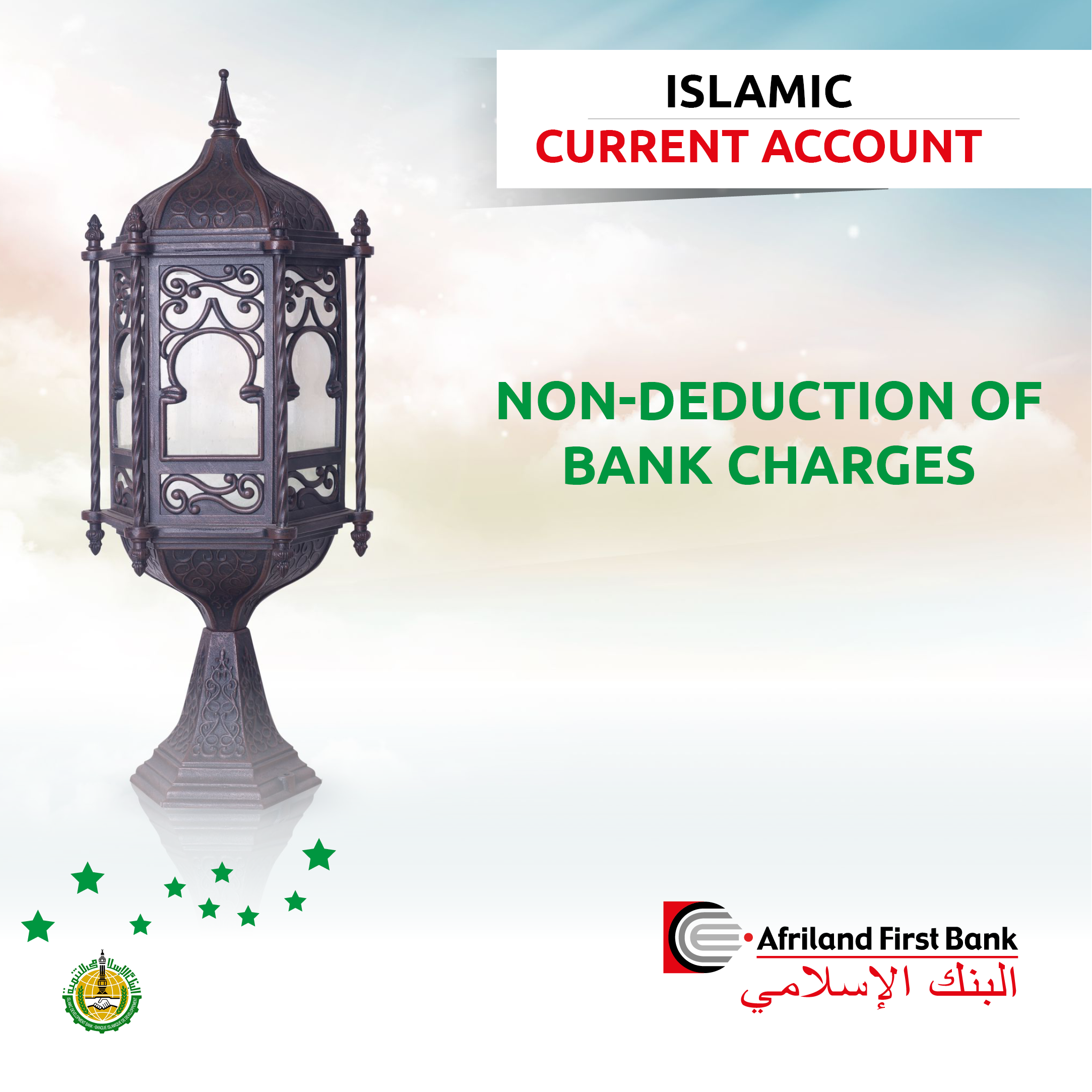 Some customers express the need to respect sharia rules in the conduct of their businesses. Others want to experiment with alternative finance, which considered fairer and more equitable in terms of the greater risks the bank takes in customers' projects. We identified these preferences, with the opening of the first Islamic finance window in Central Africa. Your company can choose the Islamic corporate current account and enjoy the benefits of not paying interest on late payments, not paying charges, risk sharing, etc.
Benefits
Compatible with the precepts of Islam
A cheque booklet and a bank attestation
A negotiable minimum deposit at opening
No restrictions on your banking transactions
Access to Afriland First Bank's financing
Specificities
Allows only Islamic Financing
Account Opening Requirements
Application to open an account on headed paper signed by the manager
Legal and tax file of the company
All authorisations and approvals from the company
And for every signatory
A legalized photocopy of the NIC or passport
One 4x4 photo
A home location map
Proof of home address (lease contract or water, electricity, telephone bill, etc.)
Proof of income (pay slip or other)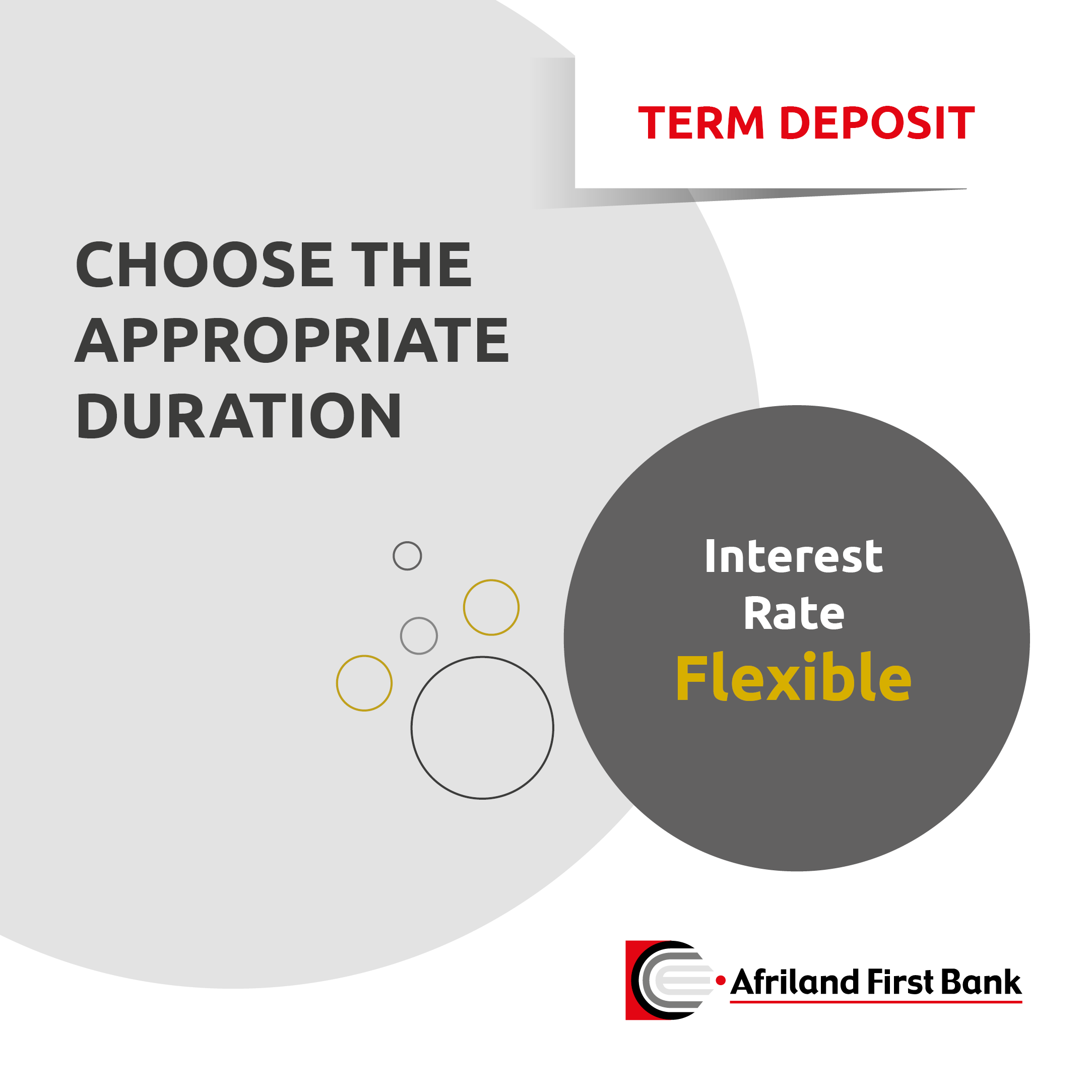 We make it easy for SMEs and large companies to grow their assets. You only have to define how much of your cash you want to invest and then contact us to agree on a rate and term. That's it, you have a safe, interest-bearing, cashless deposit.
Benefits:
Take advantage of our flexible TD by choosing your own best investment term.
Our TD offers you access an overdraft at a subsidised rate
Our TD is a secure investment, our signature is your guarantee. It offers you the best assurance because it is a zero-capital risk investment.
Our TD is a liquid asset. You can cash it back at any time.
Taxation: Interest is subject to the proportional tax on income from movable capital at a rate of 16.5%.
Specifities
Minimum amount: 10 000 000 F.cfa
Minimum Term : 3 months,
Maximum Term: 2 years
Negotiable rate
Interest is payable at maturity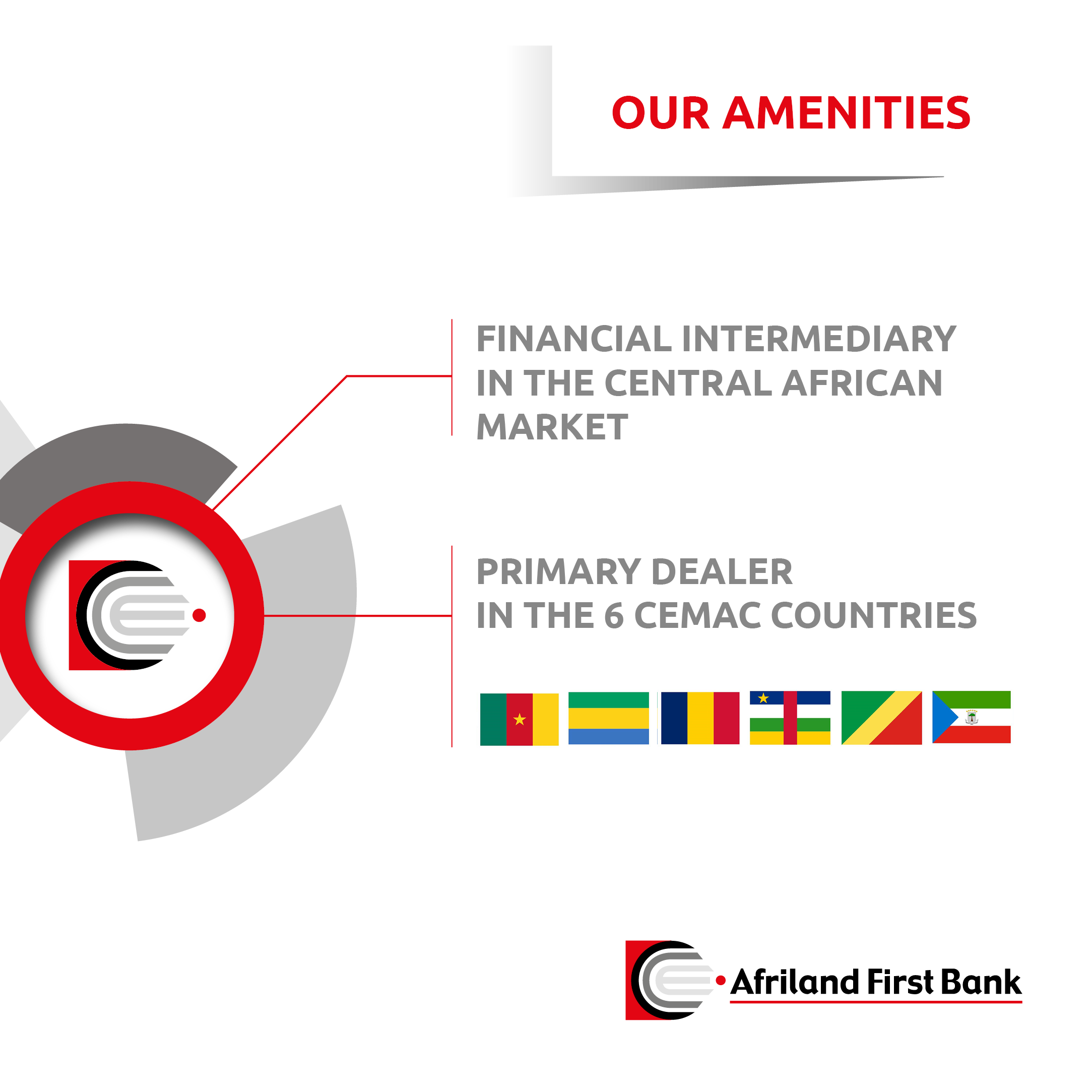 We offer you relevant stock market information and the advice of our experts for the negotiation and settlement of your buy and sell orders for listed and unlisted securities.
Afriland First Bank has a global license as a financial market intermediary in Central Africa and a license as a Specialist in Treasury Securities in every one of the six CEMAC countries.
We offer a wide range of services to assist our investor customers in their operations, whether on the capital markets or in the process of dematerialising securities in the CEMAC.
Our activities:
Receipt of your stock market orders and their negotiation on the market via our subsidiary Afriland Bourse & Investissement
Listing of your company on the stock exchange
Assistance in the issuance of negotiable debt securities for the financing of your working capital needs
The best advice in the constitution of your investment portfolio or the choice of financial assets in which to invest on the market
Engineering and financial arrangements for your expansion projects or raising funds in the market
Placement of financial instruments
Management and maintenance of securities accounts
Management of transfers, deposits, and withdrawals of securities
Back office management for third parties
Specialist in government securities
Specific financial products
Our strengths
Our studies
Our advice
Our analyses
Our regularly updated databases
Specialists at your service
The support of leading analysts
Analysis and decision-making tools at your disposal
Direct access to all the world's major financial centres
Consulting and financial engineering
Initial public offering
Public offering
Dematerialisation of securities
Adapted financing vehicles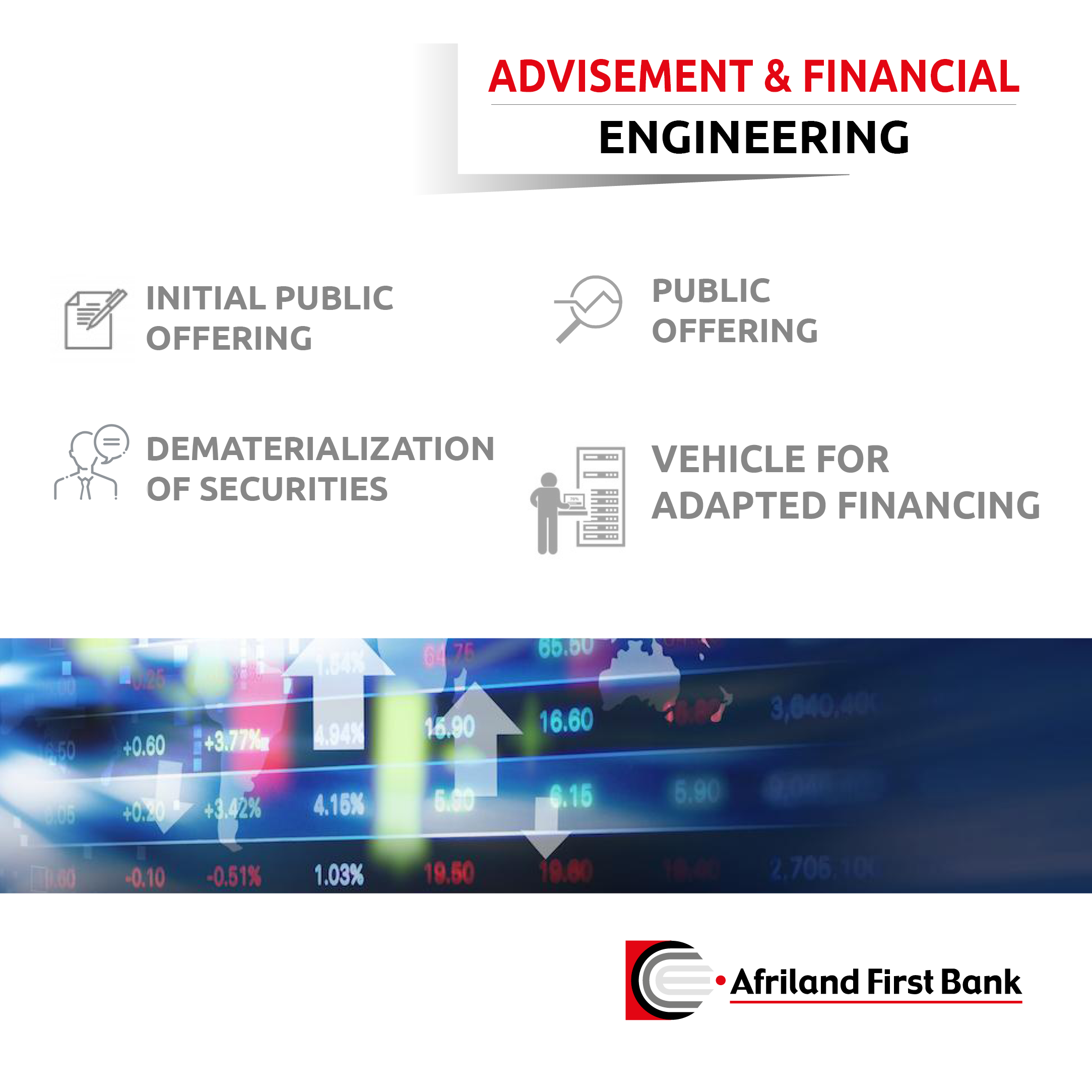 Our financial analyses offer you insight into the market, risk mitigation, product sizing and economic restructuring. Our analyses are renowned for their technical quality and compliance with commercial, accounting and financial regulations...
We provide support in:
The structuring and placement of your public offerings on the financial market
The process of making your securities available to the public until they are booked
Providing support for your company's IPO operations- The creation of financing vehicles tailored to a specific project or operation (project financing, credit securitisation, etc.)
Arranging and financing projects through different financial institutions (banking pool)
Considering your risk profile in the process of building up and monitoring your portfolio of financial assets, we offer you the choice between :
Free management with complete freedom to choose your investments
Advisory management to benefit from the advice of our experts while remaining in control of your investment decisions
Management under mandate to enable us to make the best investments on your behalf within the limits of your requirements
Our dual vocation as a commercial and investment bank has led us to explore as many financing methods as possible, in order to offer our customers ever greater flexibility to meet their financing needs. It this for this reason that we opened a door to the financial markets as a complement and alternative to bank financing.
Considering the regulatory innovations in the CEMAC region, especially the merger of the Douala Stock Exchange and the Libreville Stock Exchange, we created Afriland Bourse & Investissement, a subsidiary specialising in investment banking.
Our stockbrokerage offers investors and project promoters the possibility of mobilising large amounts of capital on a long-term basis and at attractive rates, with three main types of activities:
Structured finance
Stock exchange and portfolio activities
Financial engineering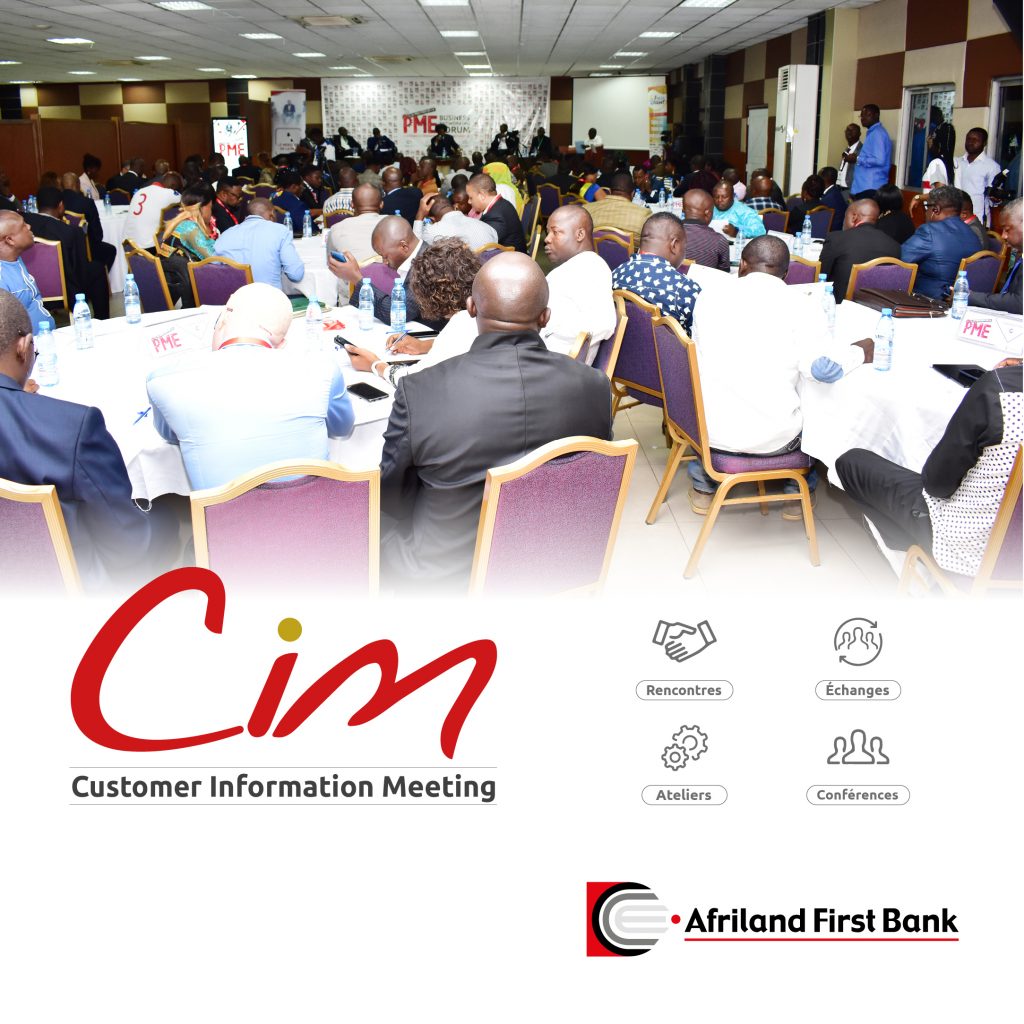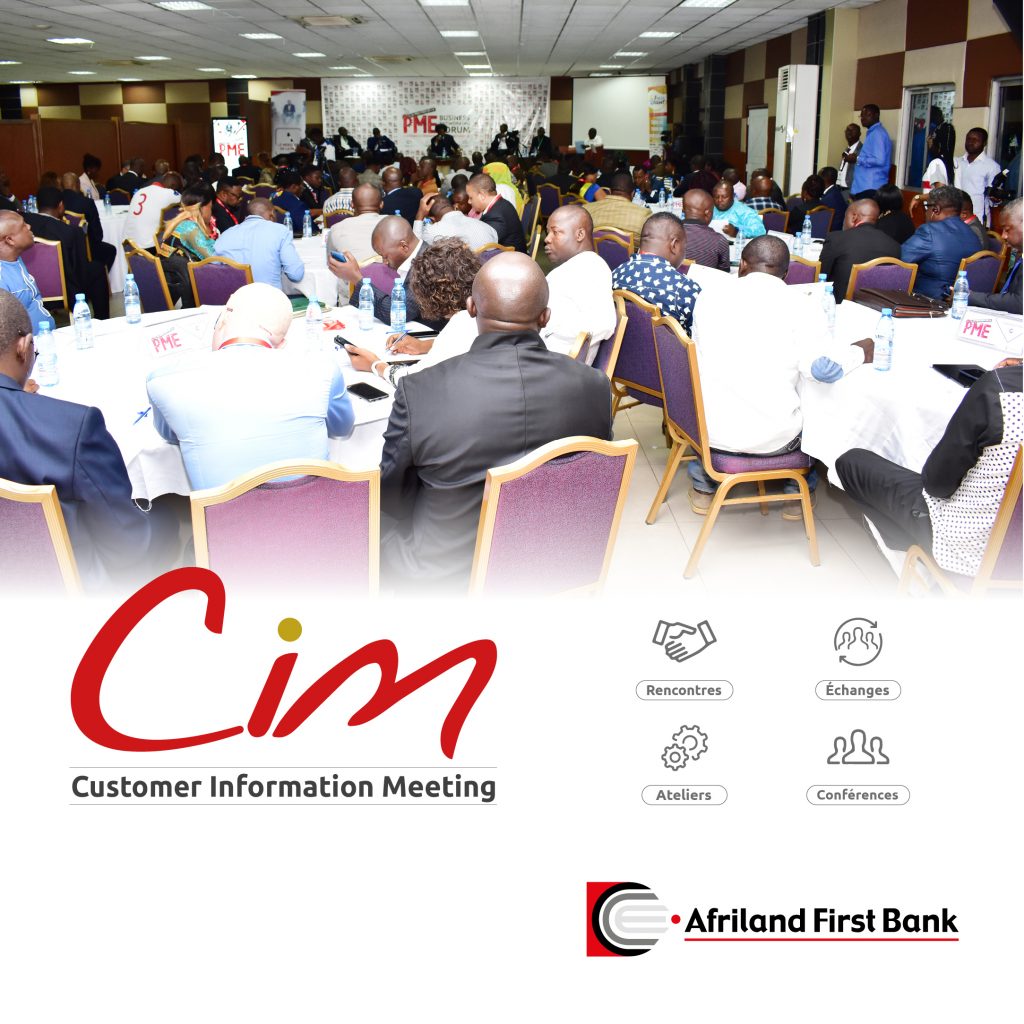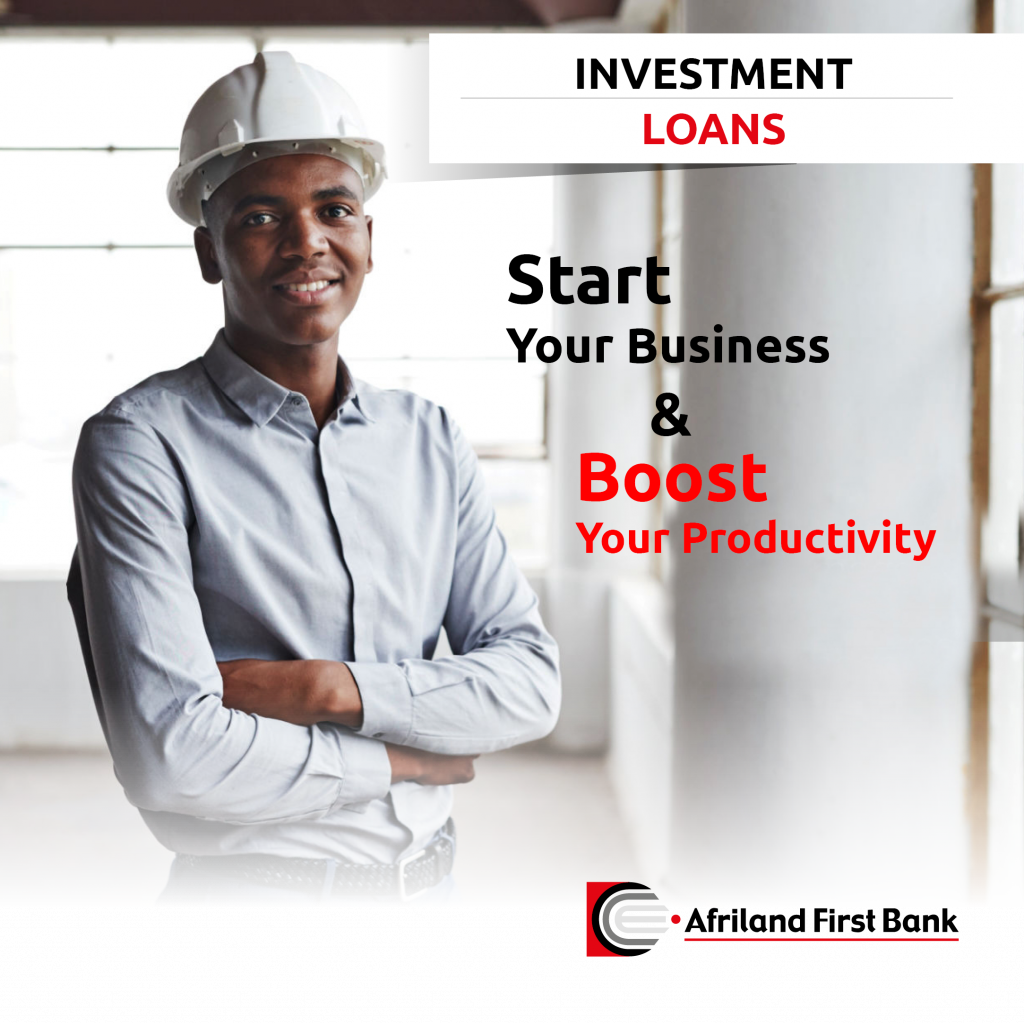 SMEs, large companies or even individuals,
You want to start your business?
Enjoy flexible and personalized support.
Afriland First Bank offers you a various range of investment solutions that can go up to 70% of the total financing of your business.
Considering that wealth creation depends mostly on production resources, we can help you acquire your fixed assets: buildings, machines, vehicles, etc.
Our offers:
Medium-term loans: flexible and convenient, this product offers you a repayment capacity ranging from 24 to 60 months, starting from the disbursement of funds.
Long term loans: this product offers you even more flexibility in repayment (24 to 60 months). It is suitable for corporate customers with large investment needs.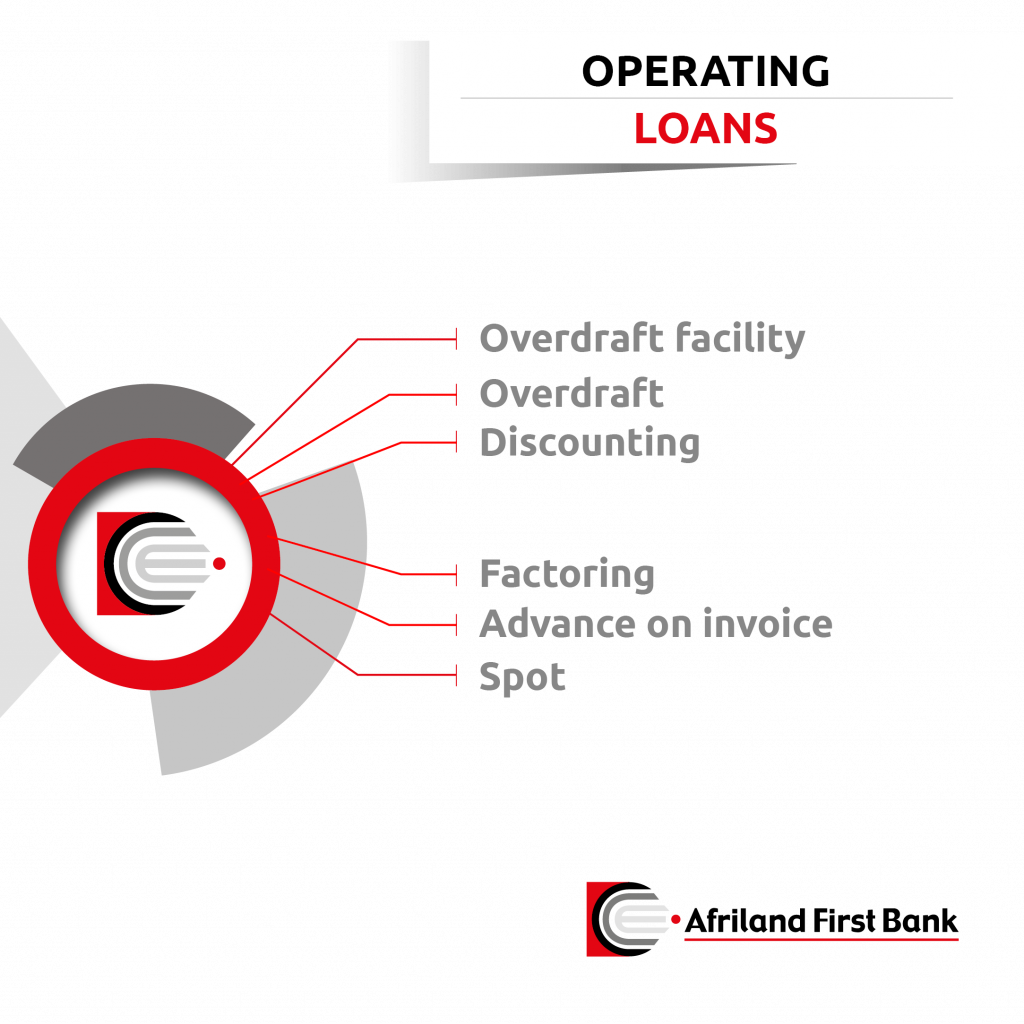 Are you facing day-to-day difficulties in running your business? We have designed solutions suitable funning different working capital needs:
Overdraft facility
Overdraft
Discounting
Factoring
Advance on invoice
Spot
You can also take advantage of the flexibility of our repayment terms, which can be spread over up to 24 months. Contact our customer agents and obtain your credit in just 24 hours.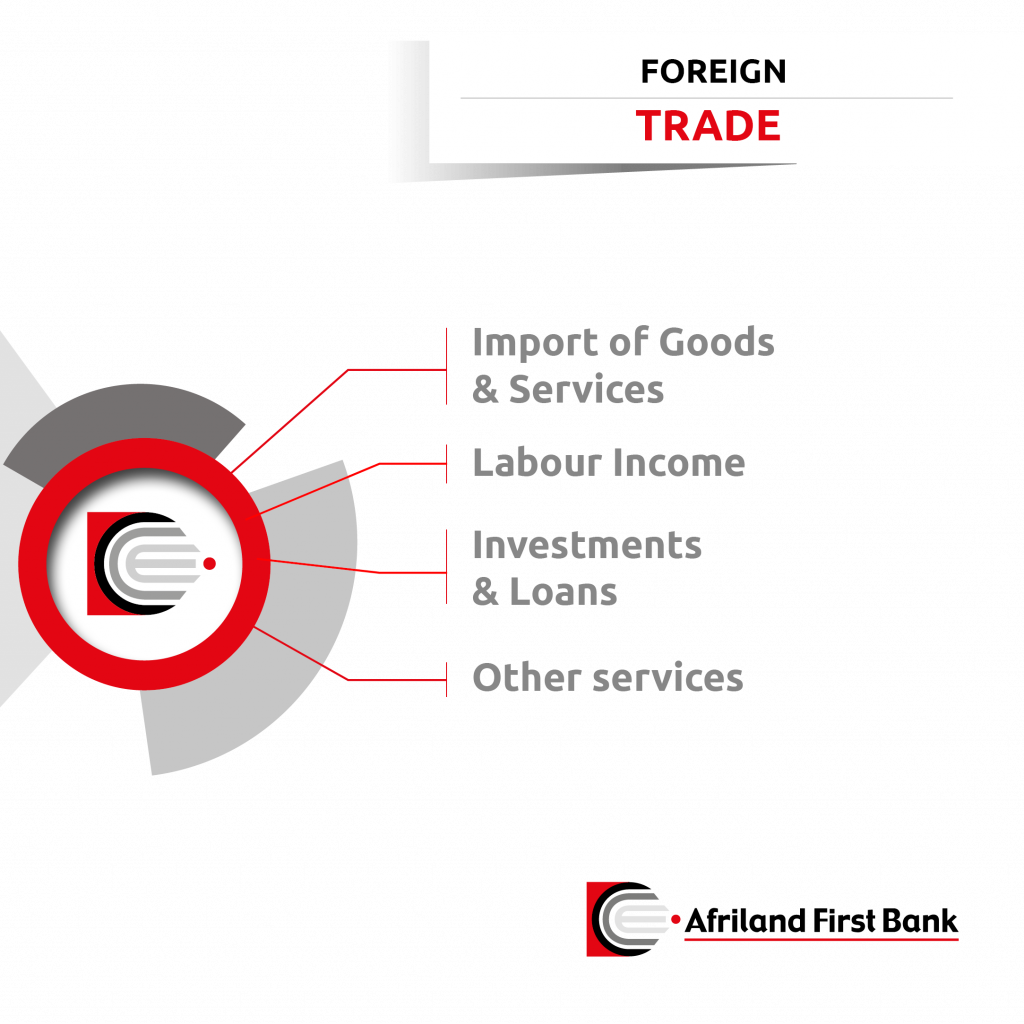 Afriland First Bank has a dedicated team to manage your documentary credit, documentary remittance, stand-by letter of credits and all your transfers outside the Cemac region. Our commitment is to support you until the end of the transaction.
The challenges of the current context: In the wake of the changes resulting from the new foreign exchange regulations and in accordance with our values, our institution is committed to ensuring that our staff spare our customers the risk of compliance. That is why, our approach includes raising customers' awareness on to the risks of sanctions resulting from the new regulations. In order to protect the interests of our customers, we provide them support in the collection and forwarding the requirements for clearance of transfer files (current transfers, Documentary Credit settlements, Documentary Credit settlements).
Please take a look at the leaflets with details of our different trade finance products:
Afriland First Bank guarantees financing for your equipment purchase in 5 days, with many optional guarantees and attractive repayment terms.
Equipment leasing: We offer you financing for the acquisition of your production equipment: vehicles, machinery, motorbikes, rolling stock, generators, etc.
Real estate leasing: This product is for entrepreneurs looking for a site to set up shop. We acquire for you the real estate of your choice. It comes along with the best repayment terms.
Leaseback: If the purchase of an equipment has left you cash strapped and you need to purchase more equipment, through our leaseback solution, we can buy your production equipment and make it available to you to support your working capital.
Visit our branches to discover other leasing solutions:
Car plan
Rental with purchase option
Long-term rental
Simple rental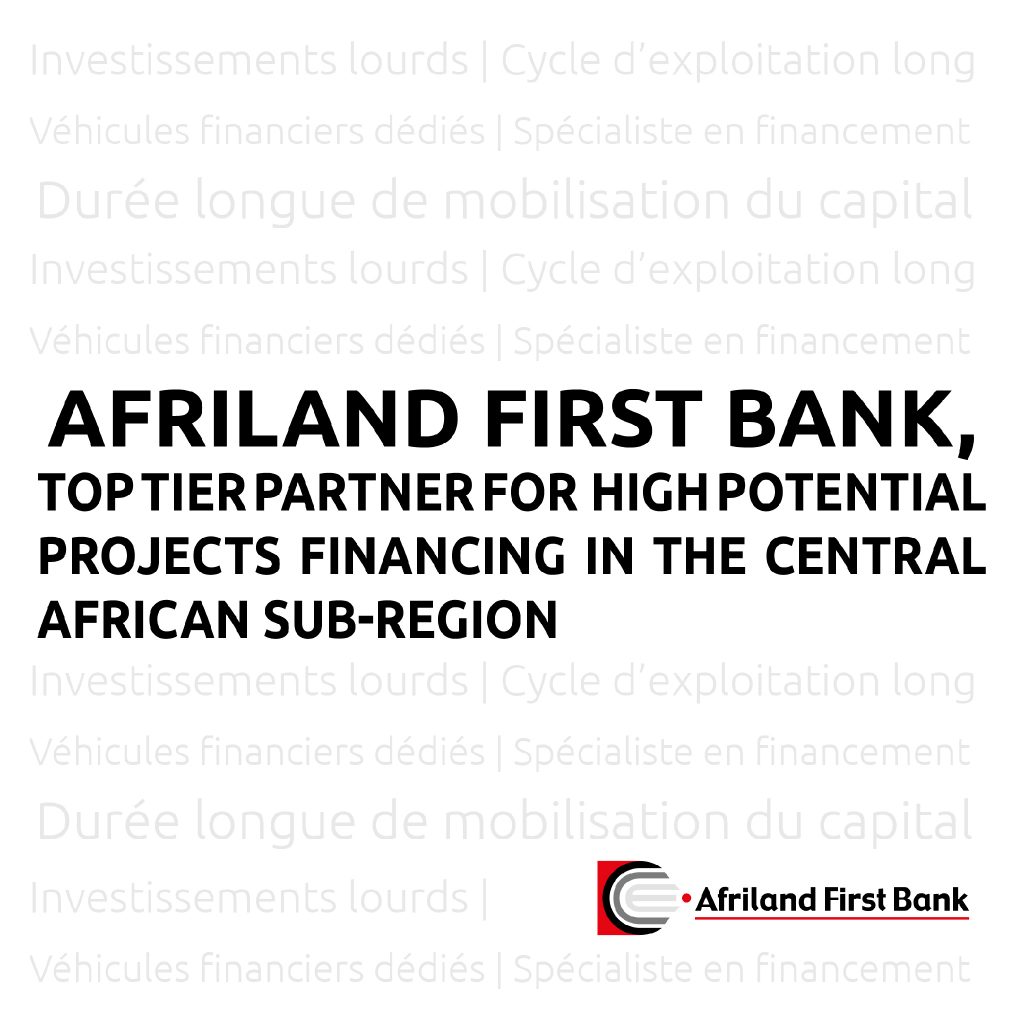 The structural investment needs of CEMAC countries are substantial: oil platforms, mining development projects, hydroelectric dams, highways, etc.
Private investors also have ambitions to build large-scale infrastructure such as hotels or commodity processing industries.
We offer CEMAC economies and private players our long experience in financing and managing high potential projects.
We support them in the maturation of their projects. Since the operating cycle of these projects is generally long and they require heavy investments that can only be amortised over the long term, we create a financial vehicle dedicated to each project, ensuring the support of other financing specialists, but also construction specialists, insurers, reinsurers, etc.
We guarantee the success of the project through this diversification of partnerships and the assured autonomy of the dedicated vehicle.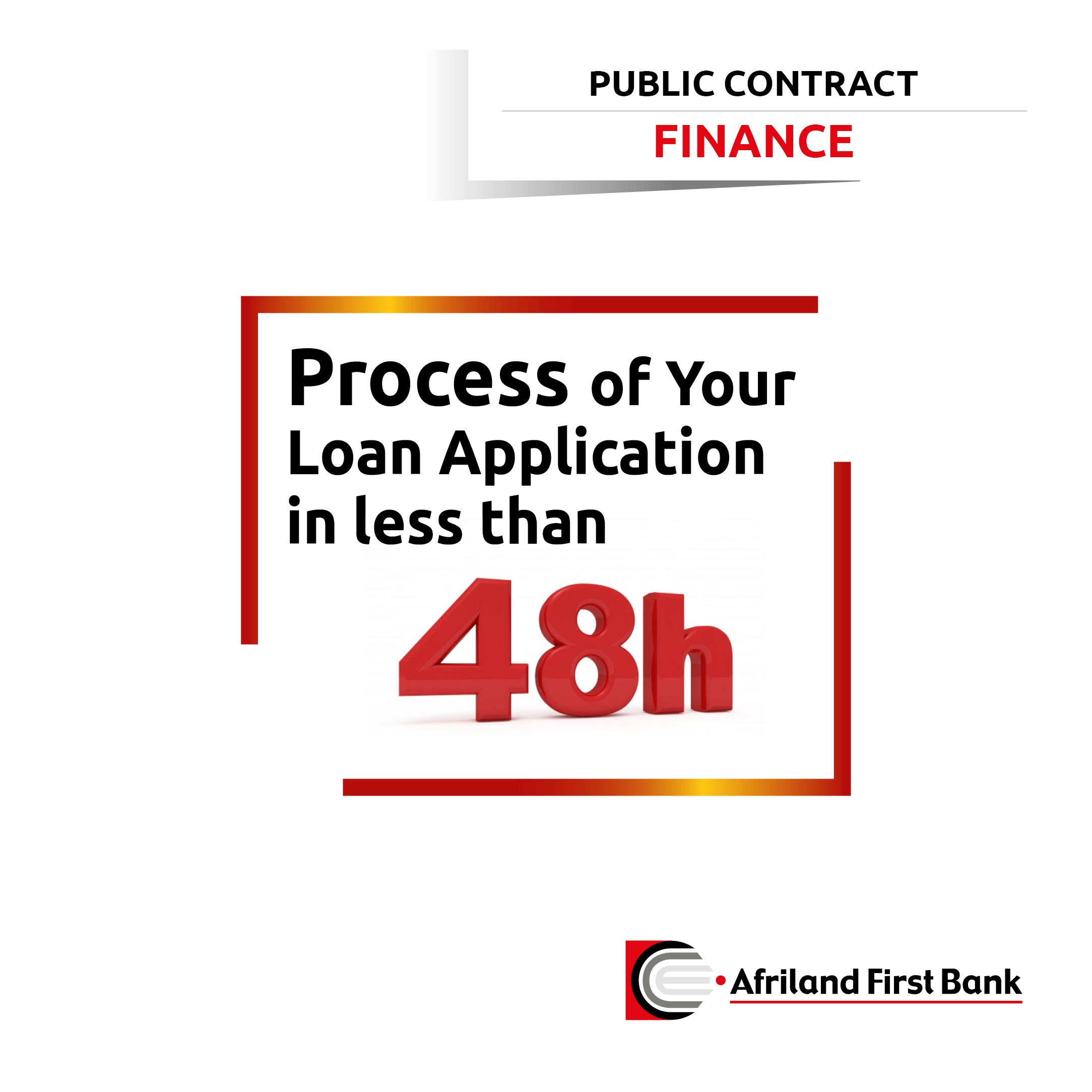 If you are state contractor, try the speed of our range of programme credits. We process your loan application in less than 48 hours, whatever your need:
Pre-financing on your administrative purchase orders (BCA, 4/9) and administrative purchase letters for up to CFAF 25 million without mortgage guarantee
Invoice advances/disbursements (ceiling CFAF 100 million)
Listing advances (ceiling CFAF 200 million)
Publishing of public contracts (bidding, completion, retention of guarantee)
Financing backed by financial guarantees (cash bonds, term deposits, bank counter guarantee)
Supplier guarantees without mortgage guarantees: payment guarantees (ceiling CFAF25 million) and removal bonds (ceiling CFAF 25 million)
Get your bid bonds in only 48 hours and this with a provision of less than 5%.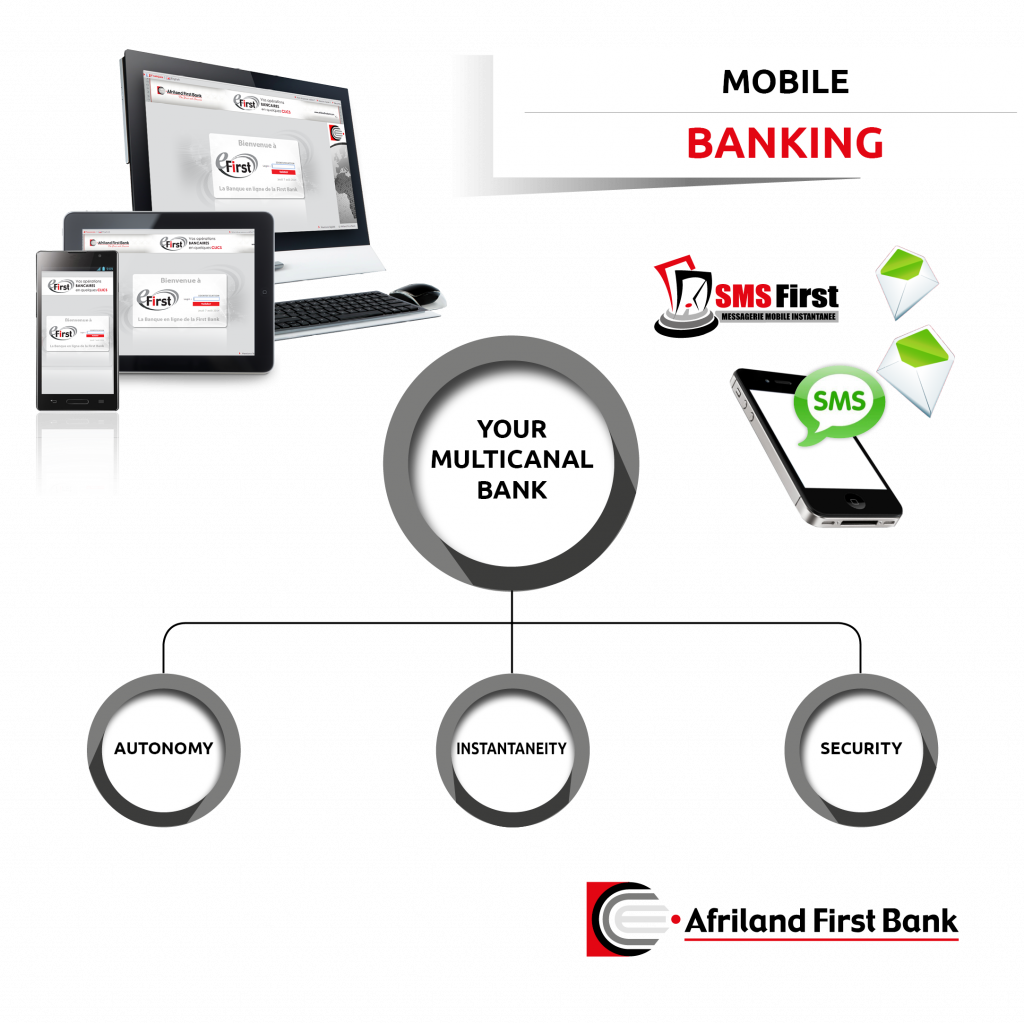 E-First
Businesses need the right tools to operate autonomously. With E-first, use the Internet to check your account and make bank transfers at any time, without having to go to a branch.
Our E-FIRST online banking service is available instantly and on request at our counters.
PASSWORD: The password you choose when you log in for the first time must be made up of 6 digits.
- If you lose or forget your password, you can only obtain a new one from your branch. Do not hesitate to contact your account manager if necessary.
- We recommend that you change your password no later than every 90 days
- For each login attempt, you have a limited number of incorrect entries (3) of your access codes. Beyond this limit, your access to E-First online banking will be blocked. Only your account manager or our customer service can unblock it.
SECURITY
The security of E-First online banking is ensured by :
the double key comprising a login and a password
DIGIPASS (for companies and professionals who have subscribed to the service)
the encryption of all data circulating on the network (SSL technology).
Your password is strictly confidential. You can change it at any time. If you forget your password, you can contact your account manager or our customer service department, who are the only ones authorised to create a new password for your use.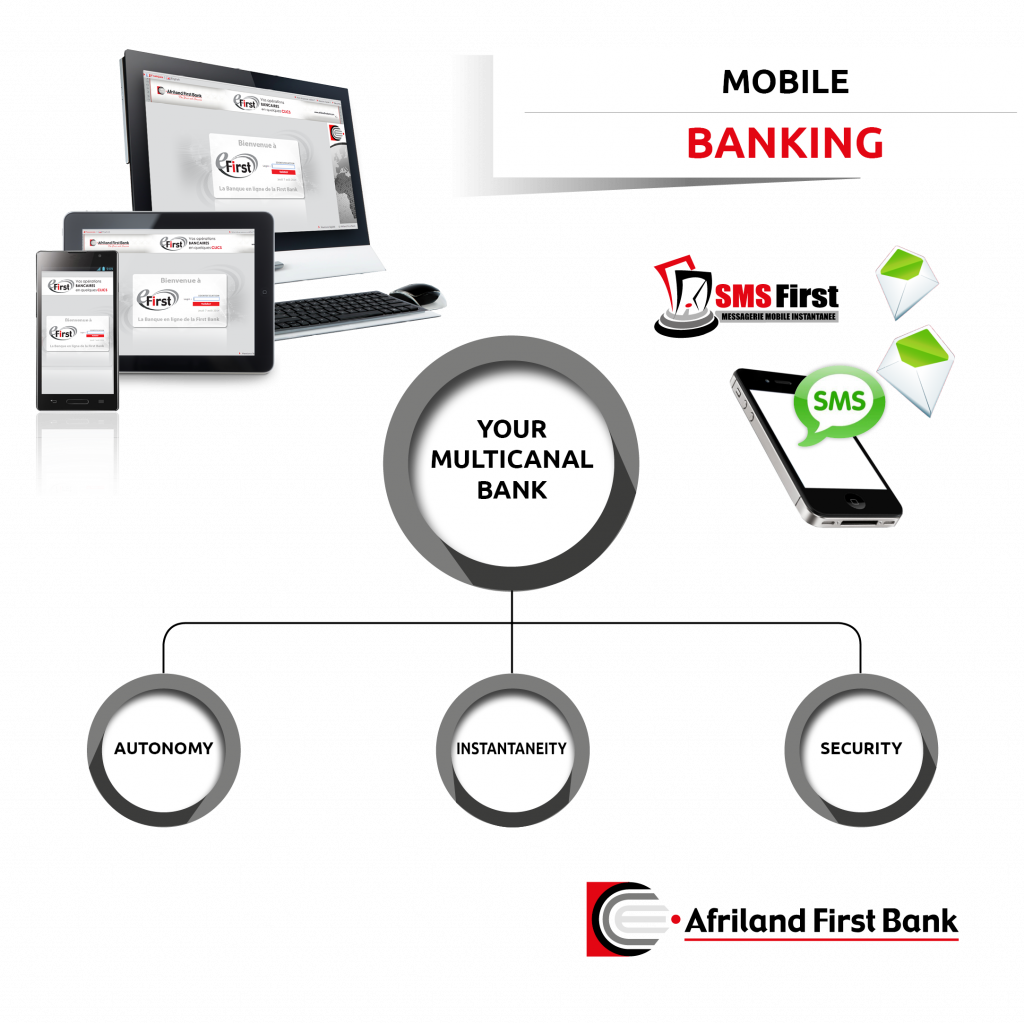 SMS FIRST
With SMS First, you can receive key account information on your mobile phone, even if it's a feature phone, anywhere, anytime. You do not have to be logged on to the internet.
Subscription
You can subscribe at any of our branches during working hours, Monday to Friday from 7.30am to 11.45am and from 2.30pm to 5.45pm and on Saturdays from 9am to 12pm and from 4pm to 5.30pm
you can also download the form by clicking here, fill it in and send it to onlinebanking@afrilandfirstbank.com.
In both cases:
Fill in and sign the form
Make sure you indicate the telephone number through which you would like to receive alerts
Provide a photocopy of your valid identity document (NIC or Passport)
Specifications
Subscribing SMS First entitles you to:
notifications following any debit or credit transaction in your account
access to your account balance as many times as you wish
regular account monitoring: you will receive your account balance every Friday
Benefits
Service works on all phone models: no need for a Smartphone
No need for an internet connection to benefit from SMS First