Slides_2021_Institution ENG1995_422
Slides_2021_Institution ENG1995_4222
Slides_2021_Institution ENG1995_4223
Slides_2021_Institution ENG1995_4224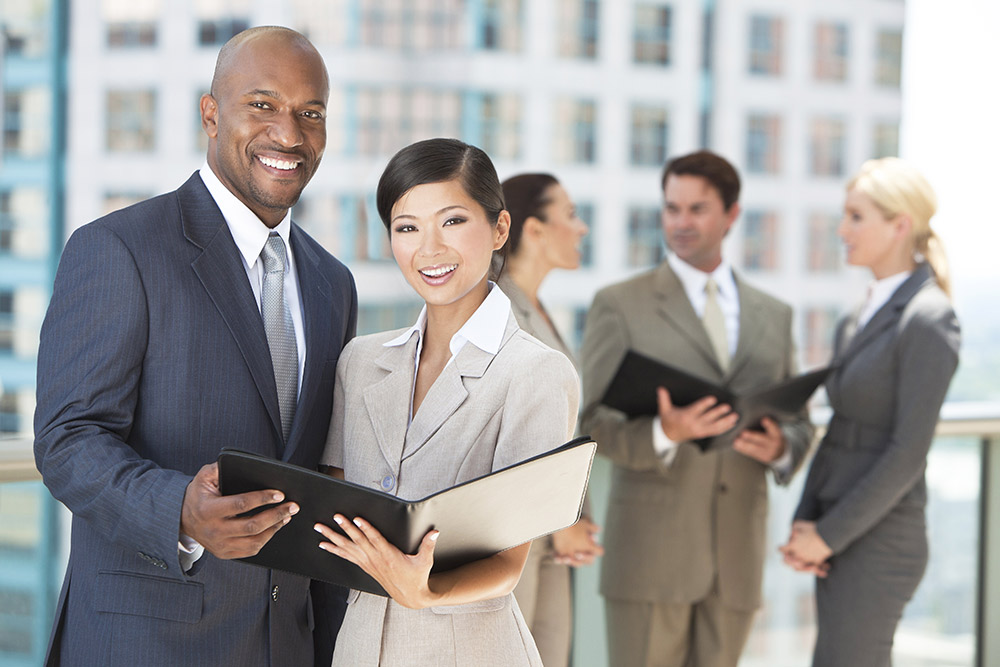 Whatever your status:
Associations, Foundations & NGOs, Embassies & High Commissions, States & Governments, Public Sector Non-Governmental, Microfinance...
Whatever your needs are: Investment, Loans, Calls for savings, Cash management, Foreign exchange management...
We offer you tailor-made services.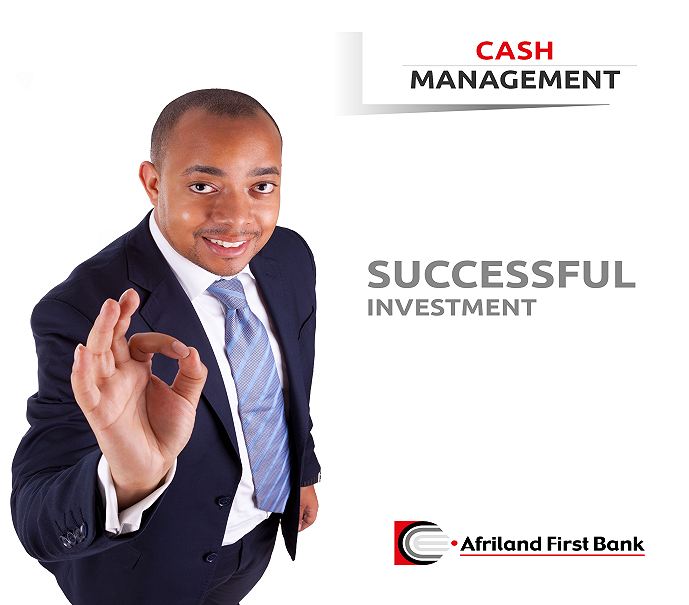 Cash Management
Wondering what to do with your cash? We are very mindful of the savings needs of institutions. That's why we have a wide variety of margin-generating investment offers. Our TD enables you to invest without taking capital risk. In the event of cash flow problems, you can benefit from an early exit under the terms and conditions specified in the contract. Take advantage of the flexibility of our TD by choosing a suitable term. Go to any Afriland First Bank branch and talk to our portfolio managers. Tell them your needs and they will suggest the most appropriate account for you.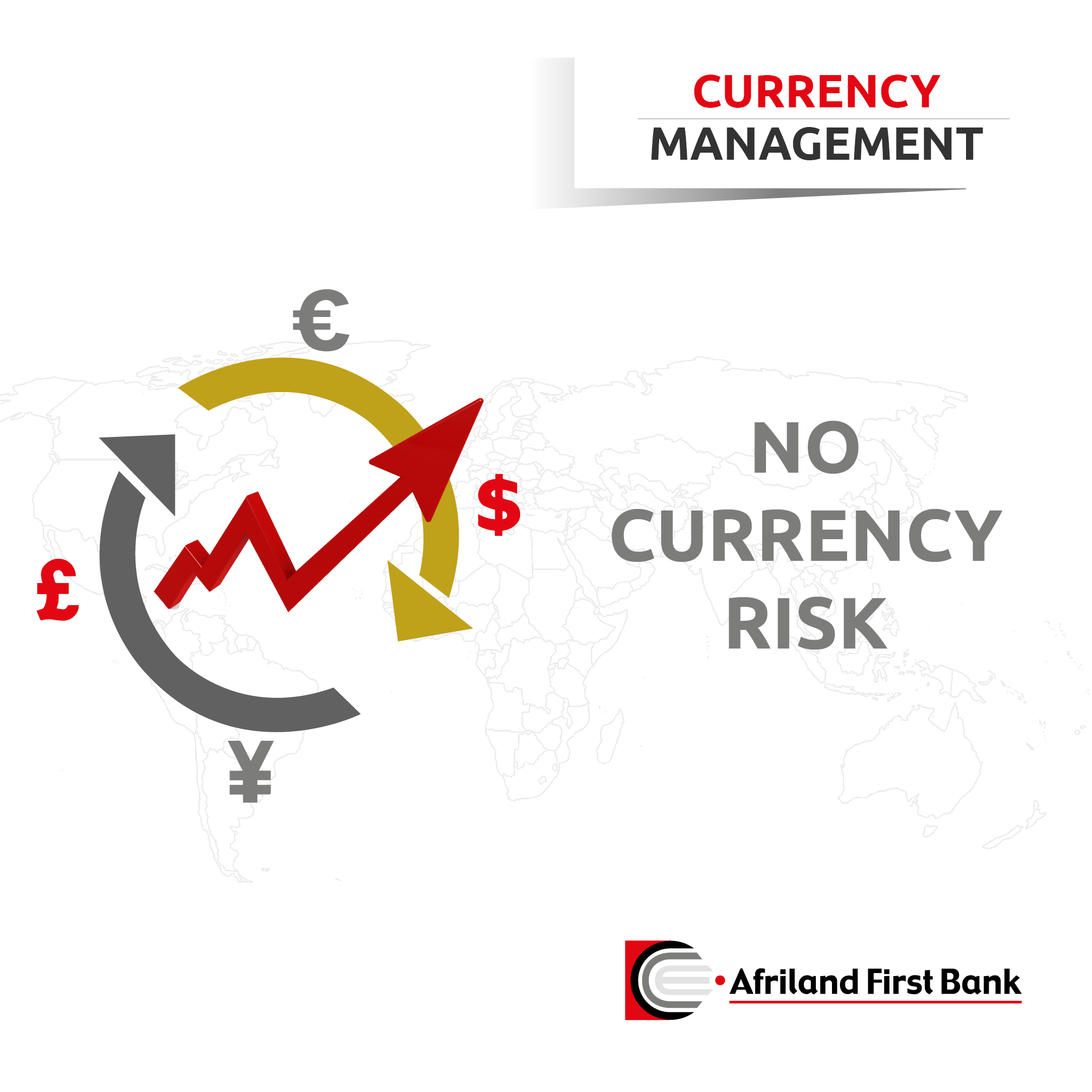 Currency Management
We tailor our banking offerings to international institutions whose value chain involves transactions in foreign currencies. We help you hedge your foreign exchange risks and manage your foreign exchange transactions wisely.
We offer you a foreign currency account with attractive conditions that will enable you to process your transactions directly in the currency of your choice and without foreign exchange.
Contact us to find out if you meet the requirements of the Central Bank. We will be pleased to facilitate your cash receipts and payments by opening an account for you in the currency of your market.
Benefits of a Foreign Currency Account
Income in foreign currency
Attractive exchange rates
Competitive transfer fees
Preferential charges
Specificities
Accessible to natural and legal persons
Account mainly in credit
Authorised operations: deposits, withdrawals, transfers, etc.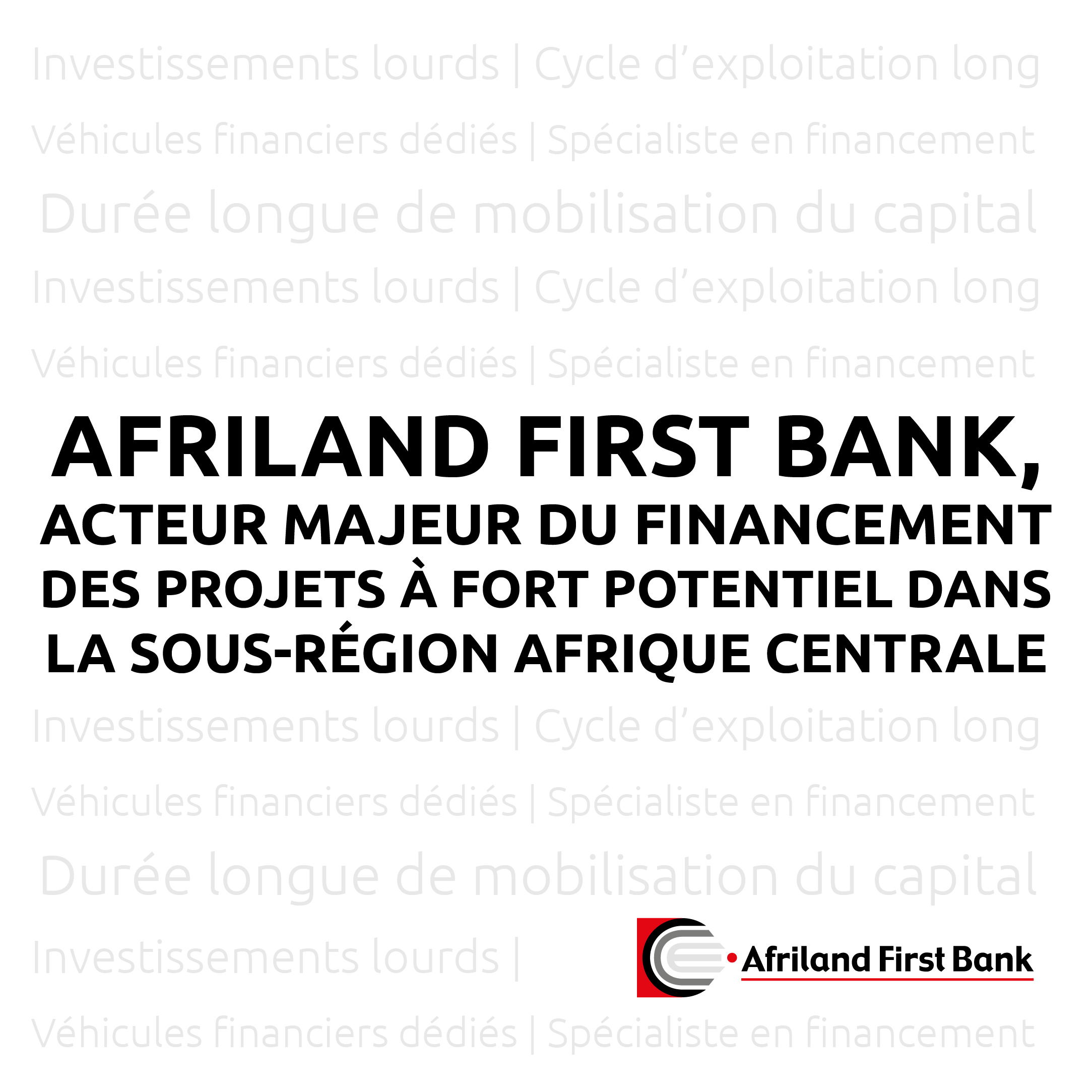 Project Finance
States, institutional investors, entrust us with your ideas. We will transform them into projects and support you in their implementation.
The structural investment needs of countries in the CEMAC sub-region are considerable: oil platforms, mining development projects, hydroelectric dams, motorways, etc.
We equally cater to private investors also have ambitions to develop large-scale infrastructure such as hotels or commodity processing industries.
We offer CEMAC economies and private players our long experience in financing and managing high-potential projects.
We provide support for the maturation of their projects. Because the operating cycle of these projects is generally long and they require heavy investments that can only be amortised over the long term, we create a financial vehicle dedicated to each project, ensuring that we are supported by other financing specialists, but also by construction specialists, insurers, reinsurers, etc.
We guarantee the success of the project through the diversity of partnerships and the assured autonomy of the dedicated vehicle.
Notre expérience sur le marché des titres publics
Afriland First Bank has been successfully fulfilling the mandates of the CEMAC States in the public securities market for many years.
We are the market leader in government securities in the CEMAC zone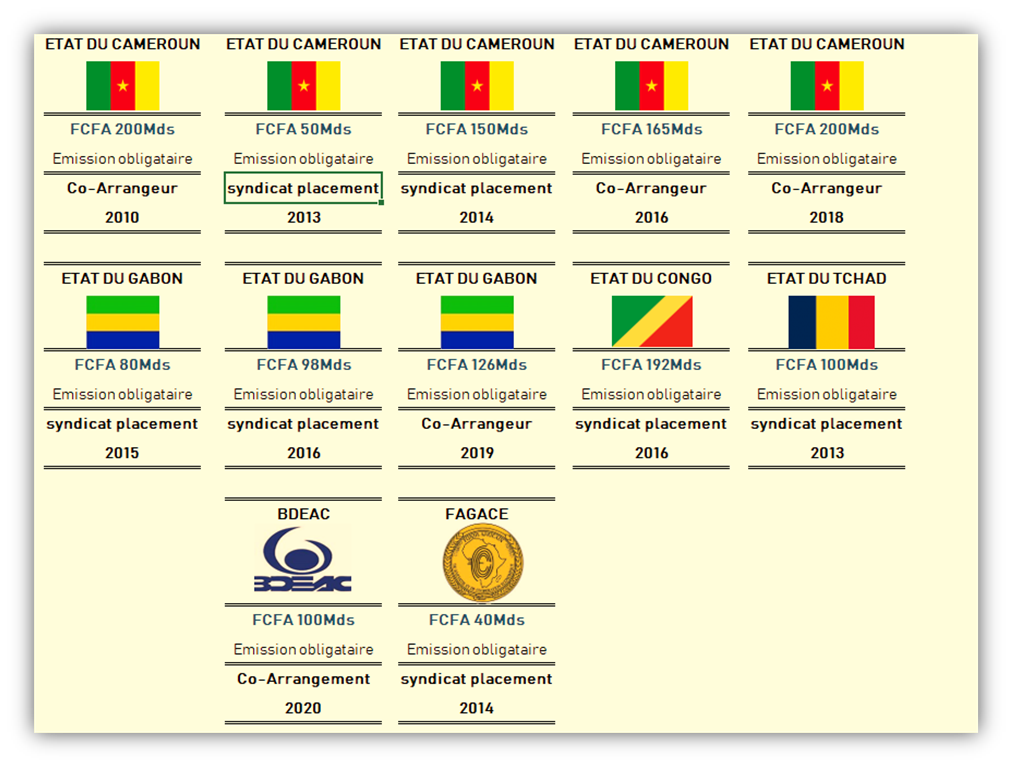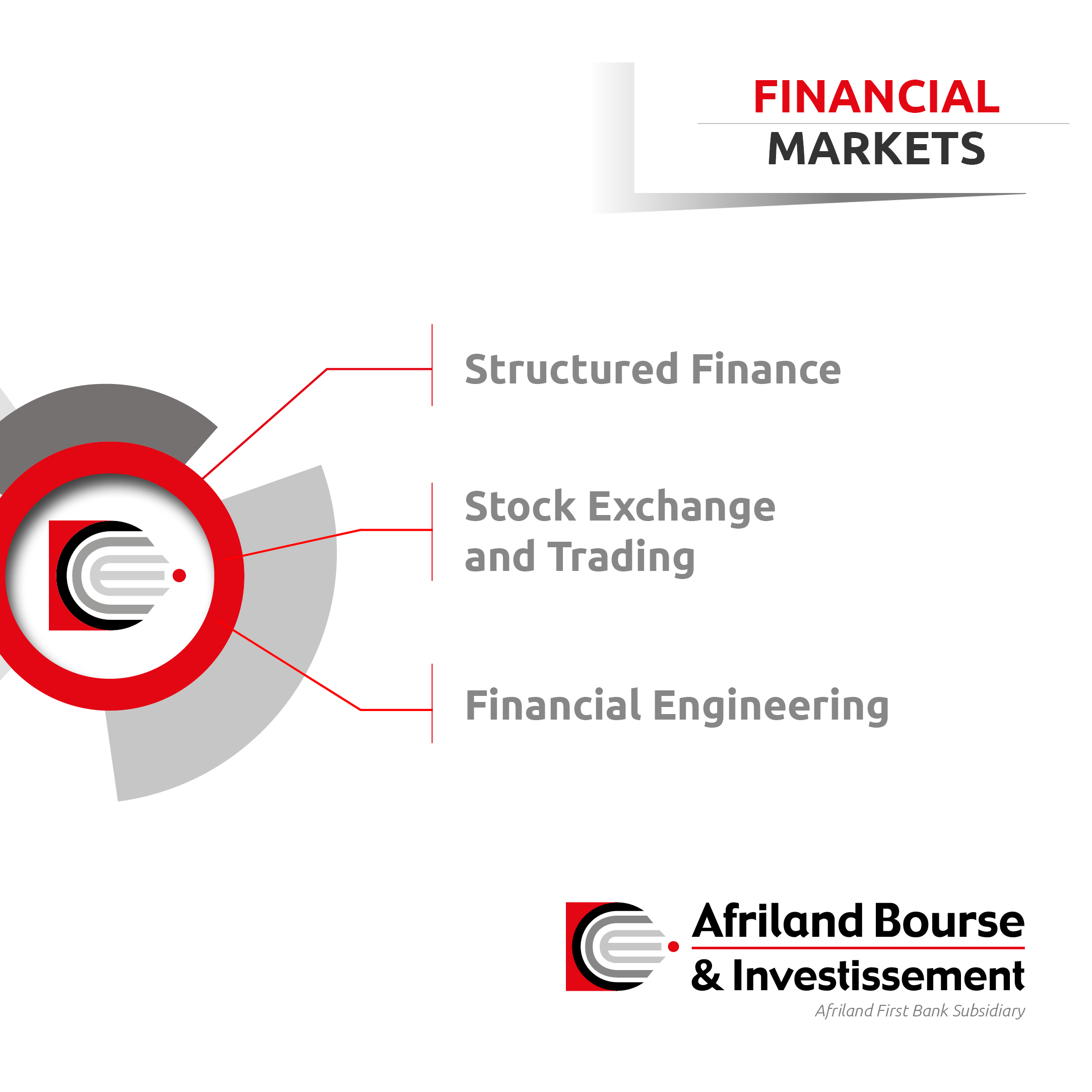 Our investment company Afriland Bourse & Investissement explores market financing as a complement and alternative to bank financing. In view of the regulatory changes in the CEMAC region, especially the merger of the financial markets of Cameroon and Libreville, we created Afriland Bourse & Investissement, a subsidiary specialising in investment banking.
Our stockbroking company offers investors and project promoters the possibility of raising large amounts of capital over the long term and at attractive rates, for three main categories of activity:
Structured Financing
Public offering
Private Borrowing
Syndicated loans
Securitisation
Stock Exchange and Trading
Initial listing on the stock exchange
Financial services
Stock exchange trading
Financial investment advice
Placement of securities
Account keeping and custody of securities
Direct selling of securities
Financial Engineering
Restructuring
Financial valuation
Mergers & Acquisitions
Strategic advice
Embassies and international bodies, we do think about you. The quality of service at Afriland First Bank depends on vast infrastructure and receptive personnel.
Welcome to our bank:
Open your salary accounts and get a preferential funding rate for your salaried employees;
Open a savings account with Afriland First Bank and benefit from suitable support. Associations and NGOs, Afriland First Bank offers you the well-tailored services.
Open your savings account with the following:
A certified copy of the declaration of the association receipt or the authorisation from the Ministry (Associations and NGOSs).
The minutes of the GA authorising the opening of the account at Afriland First Bank
The minutes appointing signatory members and payment modalities.
A copy of the laws and standing orders duly signed.
The attendance sheet of members at the General Assembly, signed by each member
CIGs should equally provide the following:
A legalised attestation of the declaration of the COOPCIG.
Bank account dues amount to 2 000 + VAT per semester